Jon came for a Christmas meal and stayed for a LifeChange
Cold, tired and discouraged, Jon walked into the Union Gospel Mission on 3rd and Burnside in Old Town Portland. Newly homeless, Jon was traveling from Spokane, Washington heading to Bakersfield, California. Portland was just supposed to be a rest stop. The word on the street was that the Union Gospel Mission was a good place to stop to get some help while in Portland. Jon decided to see what all the talk was all about. Christmas Eve 2017, Jon got his first meal at the Union Gospel Mission, by the day after Christmas Jon had enrolled in UGM's LifeChange recovery program.
Jon had been fighting addiction to alcohol and marijuana since he was 13 years old. He was able to hold down good jobs for long periods of time, but eventually the addiction would get in the way and he would lose his job. After Jon's father was taken ill, Jon moved in to help take care of things around the house…but the drinking continued. After Jon's dad passed away he thought that moving in with his sister in Spokane would make things better, but it didn't. He thought he was stuck, he thought there were no other options for his life.
When Jon heard the details about the Union Gospel Mission's LifeChange program he said "Sign me up!"
"It was the best decision I've ever made in my life!" exclaimed Jon, "my decision to join the Union Gospel Mission saved my life."
Wet, cold and hungry a warm meal and some friendly conversation showed Jon that there is another option to living on the streets. Now Jon says, "I have compassion for people on the streets. I want to show them the same love that I received here."
Sharing the love of Jesus through food has been a long standing tradition at the Union Gospel Mission. Sometime a meal is just a meal, but at the Union Gospel Mission sharing a meal can be a first step to a changed life. Living on the streets is dangerous, lonely and can break even the strongest person. If all you hear from people is that you're dirty and worthless, or worse yet people go out of their way to avoid you, you begin to believe those lies. We believe that everyone deserves to share meal and everyone deserves to be treated with dignity.
Now after almost a year in LifeChange Jon's life has been transformed, "My anger issue is gone, my taste for alcohol is gone, now I'm working on becoming a better man", said Jon.
UGM's LifeChange is a Christ-centered recovery program where residents live and work in a community of people committed to transforming their lives and breaking the grip of addiction. LifeChange consists of fundamental classes, counseling, work therapy, discipling and transitional after care, at no cost to the resident.
If you know of someone battling addiction or homelessness and they have had enough and are interested in a LifeChange, then contact our Intake Coordinator at mensintake@ugmportland.org or 503-274-4483.
If you would like volunteer and share meal and encouragement with someone like Jon then please contact Bernadette Taylor at bernadetteg@ugmportland.org or call 503-274-4483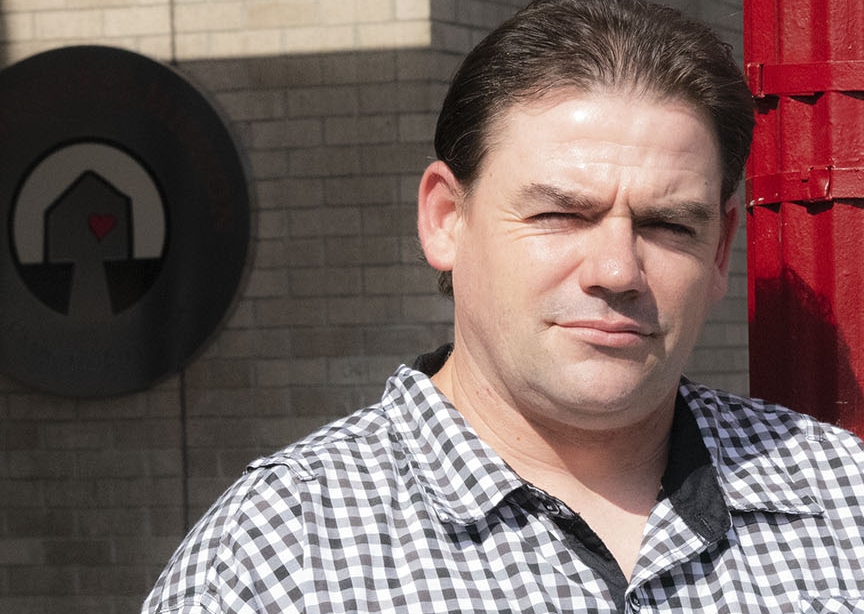 "It was the best decision I've ever made in my life!"